World Cup recap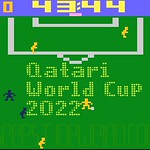 The World Cup is the biggest, most prestigious competition for all soccer players. This World Cup has five stages. They are Group stages, Round of 16, Quarter-Finals, Semi-Finals, and there's the Final. Something that happened in the group stages was that Saudi Arabia beat Argentina and people thought it was over for them. But then Argentina beat Mexico 2-0. After Argentina beat Poland 2-0. And passed to the Round Of 16 and faced Australia and won 2-1. So that made them advance to the Quarter-Final where they went against Netherlands, a pretty good team, and put in a fight where it ended 2-2. In a face off in penalties, Argentina won 4-3. 
Argentina advanced to the Semi-Finals where they went against Croatia, the team that won 3-0 last year but this year was different. Argentina beat Croatia 3-0 and then they were in the Finals vs France, one of the hardest teams to beat. Argentina got a penalty in the 23rd minute and Lionel Messi scored the first goal so it was 1-0. Angel Di Maria scored the second goal in the 36th minute for Argentina and it became 2-0. 
Some people thought it was the end for France. But no. France also got a penalty in the 80th minute and Kylian Mbappe scored to make the game 2-1. It took less than a minute for Kylian Mbappe to score again in the 81st minute and tie the game 2-2. 
Argentina and France went to extra time and in the 108th minute Lionel Messi scored and the game became 3-2. When the game was almost over, in the 118th minute, France got another penalty and Kylian Mbappe scored once again and tied the game 3-3. Argentina and France both faced a penalty. France started off and Kylian Mbappe scored.1-0 on penalties. When it was  Argentina's turn, Messi scored.1-1. France turned again and Kingsley Coman was the player chosen to shoot and Emiliano Martinez stopped the goal so it was still 1-1. During Argentina's turn, Paulo Dybala shot and scored so 2-1. France's player Aurelien Tchouameni then shot and missed so it was 2-1 still. Argentina's player Leandro Paredes shot and he scored! It was 3-1 now. France's player Rada Kolo Muani shot and he scored so it was 3-2. Finally Gonzalo Montiel shot for Argentina and if he scored the game would be over so he got ready and scored! Argentina was the World Cup winner for the third time ever. A lot of people were tearing up and Lionel Messi, at the age of 35, finally made his dream come true and won the World Cup! 
 Luis Carmona, a Mission sophomore's thoughts about the World Cup: "I kind of didn't like it. The game was sold so it was a rigged game." Carmona thinks the referees were paid off.
Carlos Canto, a Mission sophomore said, "The World Cup was probably one of the best world cups in all these years because the finals were insane. The whole matchups were insane, and how Lionel Messi won his first World Cup. To be honest, the World Cup brought hella surprises."